Liquid Roofing Contractor In Manchester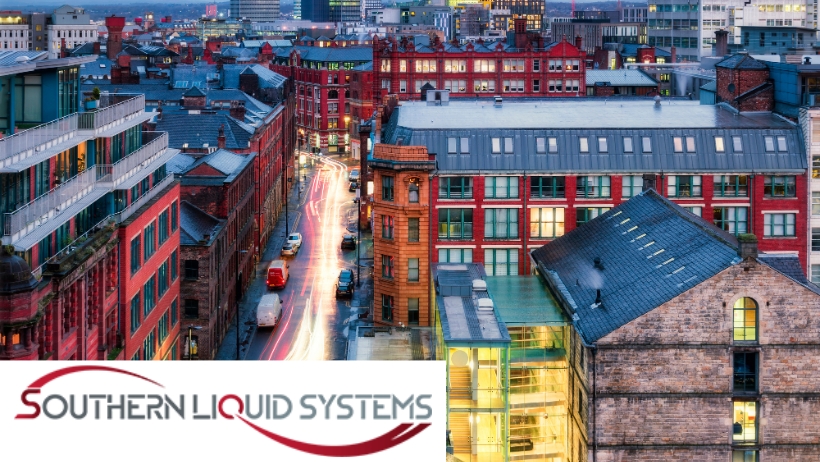 Southern Liquid Systems are a leading liquid roofing contractor serving the UK including Manchester. We specialise solely in liquid roofing services and have unrivalled range of products to provide solutions to even the most complex roofing problems. All of our operatives are highly skilled and are supported by a designated project manager. We have successfully installed numerous projects in the north west and across the UK. We are proud to serve Manchester and want to be known as the best liquid roofing contractor in the UK. If you would like to ask any questions about a liquid roofing project or require a quotation please get in touch or call us on 0207 7818153.
Why Are Liquid Roofing Systems An Excellent Choice For Waterproofing?
Liquid roofing is an ideal solution for waterproofing both residential and commercial buildings. It has especially grown in popularity for commercial roofing. It provides several excellent advantages over traditional roofing systems. As it is a liquid coating it can be used in several ways. This includes being applied as an overlay on existing flat roofs which have failed. Or it can be used for a completely new flat roofing installation. Liquid coatings can also be used for flat roof repairs.
Modern liquid systems are cold applied, highly elastic and perfect for complex detailing. This takes away three big problems many specifiers must overcome when selecting a roofing product. There are no hot works required, no difficulties waterproofing complex areas of the roof such as around pipes and plant machinery. Then, once the new roof is installed the chance of issues with thermal movement are minimal if the correct liquid coating product is selected.
Due to the ease of install liquid roofing systems are extremely cost effective. There are minimal labour requirements and due to the ease of use, contractor risk is significantly reduced. Also, once the roof is active any repairs needed can be carried put quickly and effectively. The cost of repairs is low and the disruption caused during repairs is virtually non-existent.
Liquid roofing solutions are both highly effective and extremely versatile. Whether you are looking to protect your roof from water damage, reduce energy costs, or simply extend the lifespan of your roof, liquid roofing is a great solution that can meet your needs.
About The City Of Manchester
One of England's biggest cities, Manchester, has much to offer both history buffs and modern-day travellers alike. From the iconic Manchester United Football Club stadium (1) to its many museums, galleries, and music venues - there's plenty to explore here. Visitors can also check out the city's vibrant nightlife or take a trip down Old Trafford Road for some shopping and sightseeing.
Manchester was first settled in the 9th century, becoming an important trade centre during the Industrial Revolution (2). The city went on to become a major centre for music and culture, producing iconic bands such as Oasis and The Smiths (3). Today it is still a thriving metropolis with plenty of entertainment and attractions to enjoy.
Get In Touch About A Liquid Roofing Project In Manchester
If you have any questions about liquid roofing. Or you just require a quotation on an upcoming project please get in touch or call us on 0207 7818153. We are a roofing company specialising in liquid waterproofing and one of our team would be delighted to help you.