Cold Applied Liquid Roofing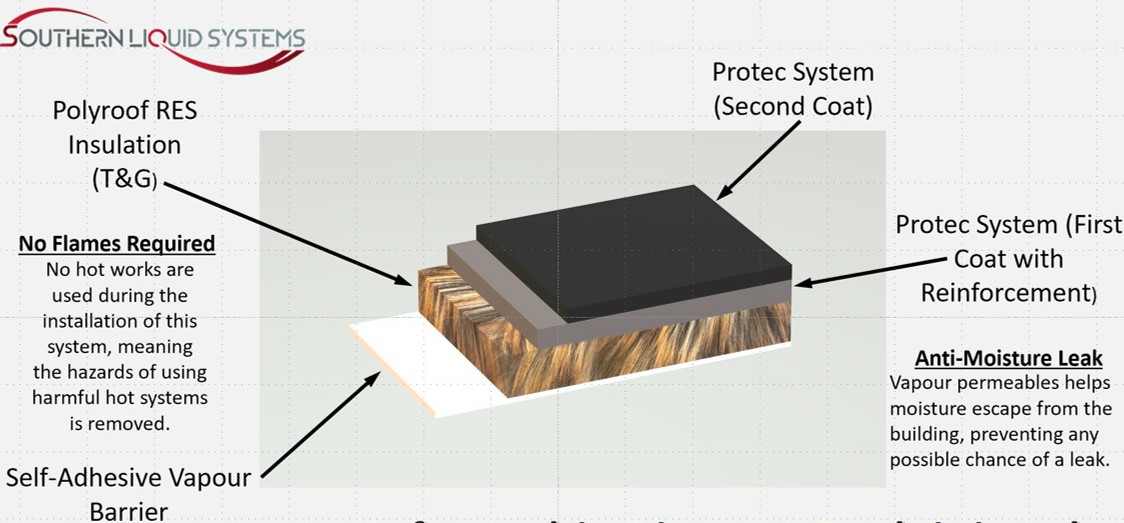 Within the past 25-years liquid applied roofing has really come into its own. Nearly all main contractor, flat roofing companies are fitting these cold applied liquid roofing systems. One of the main reasons is ease of application, with the right weather a 75-150m² roof space can be covered with 3-4 men. A lot of the hot works that come with a lot of the older systems of flat roofing can cause disruption to building site works and can cause problems with the health and safety of the site.
Cold applied systems can be applied nearly all year round from temperatures from 0 degrees – 35 degrees and some systems can be applied at higher or lower temperatures. All of the systems are either brush, sprayed or roller applied so there are not any complex tools involved like you would with some roof systems such as hot melt pots/mixers.
The cold applied systems can be carried up in container/tin form and are applied straight from the tin. This means rubbish and debris are kept to a minimum. A lot of the containers are eco-friendly, and all meet the current standards set as BBA.
The actual application process of cold applied liquid roofing is already stated is very easy and a contractor can usually sit a liquid roof training course for a couple of days and then be monitored for a couple of years so that they meet with all the manufacturers requirements and are handed verification cards and become a approved installer through this vetting process.
Once on site the various systems are either a liquid/ fleece/ liquid reinforced system some with CSM (chop stranded matt) or fleece imbedded system, while others are liquid only with the change of angle being reinforced. The main liquid companies in the UK are Sikka, Kemperol, Westwood, Bauder, Langley, Proteus, Topseal, Eagle Liquids, Centaur and many others.
Nearly all of the manufactures belong to the LRWA (Liquid Roofing Waterproofing Association) this was founded in 1979 to raise awareness of the technical and financial benefits to specifying liquid applied roofing and waterproofing systems and to establish product and installation standards to ensure optimum performance with all products is achieved.
Some of the generic types of liquid waterproofing are polymer modified bitumen emulsion and solutions, flexible and rigid unsaturated polyester resins, glass reinforced resilient unsaturated polyester resins, polyurethanes, polyurea systems and many others. Cold applied liquid roofing can be applied to nearly all substrates (depending on the system used) straight onto concrete with a primer and a single or treble component system.
On insulated boards (PIR) a carrier membrane can be applied, this is a vapour type membrane bonded to the board with either heat applied or glued all change of angles are covered and timber board joints reinforced this allows a full coverage of material and will also strengthen the angles to adhere strength where needed at the right angle junctions. The systems is then applied and a top coat or walkway traction coating for walkway, plant room access to further strengthen these highly trafficked areas.
Regular maintenance will need to be applied to nearly all liquid roofing systems this not only monitors the roofs performance but will also extend the roofs warranty.
As with time these cold applied liquid roofing systems are becoming more widely used and current trends, put these as a market leader, for roofing products worldwide and have grown 30% since 2013, making it the fastest growing part of the flat roofing market for cold applied liquid roofing products we have to maintain standards set by manufacturers and contractors alike, but for now liquid systems are 'the future' of flat roofing.
If you need any more information about cold applied liquid roofing, Southern Liquid Systems would be delighted to help you. Just call us on 0207 7818153 and one of our team will be happy to help you.