Commercial Roof Repair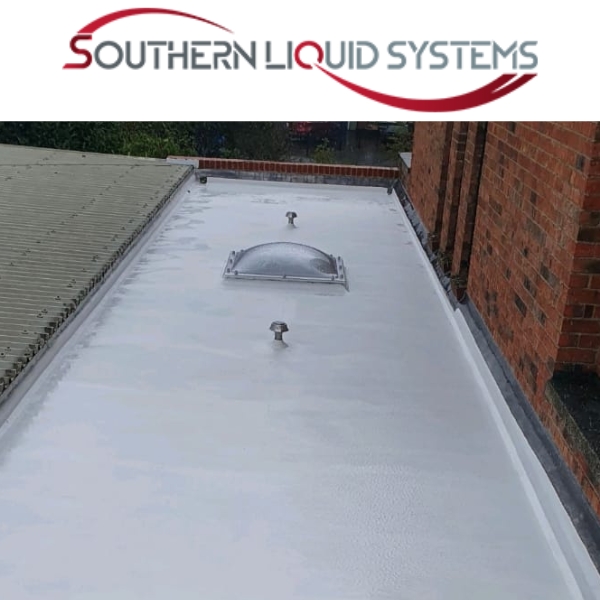 At Southern Liquid Systems, we provide an extensive commercial roof repair service. We specialise in repairing commercial roofing systems with cold applied liquid coatings. These repairs can be applied to almost any substrate and roofing membrane. And in nearly every case this is the most cost effective option. We provide commercial roofing services throughout London and across the whole of the UK.
If you have any questions about a commercial roofing project or require a quotation please get in touch or call us on 0207 7818153. Southern Liquid Systems are expert commercial roofing contractors who will be happy to help you.
Commercial Roof Repair: Understanding The Damage To Your Commercial Roofing
When you have commercial roof problems, it is essential that you have them taken care of as soon as possible. With the many different types of roofing materials that can be used, there are different repair techniques your roofing contractor can use to patch up damaged spots on your commercial roof. Remedying the problem quickly can prevent the costly requirement of re-roofing your building.
One of the most effective repair methods is liquid repair, which works in all cases. We'll explore why you should consider this method for each material and what kind of defects it can repair.
Felt Roofing Damage and Repair
If your felt commercial roofing becomes damaged, a roofing contractor can torch new patches of felt over the affected areas, resolving any issues. Provided you have hired a skilled roofing contractor, they'll have no problem identifying these damaged areas and using this process. It is essential to determine if the existing felt roofing is in a state that can handle being repaired in this manner.
A better alternative that you can consider requesting is liquid repair. It's cold applied, so there would be no torching needed. This lack of heat application would mean a much safer application. It's also a speedier process, resulting in no disruption to the business.
A liquid repair is an excellent option for seam damage. It is highly cost-effective in this circumstance. UV rays can break down the seams on your felt roof over time, eventually breaking the bond between the adjacent felt sheets. Any suspected leaks caused by a seam are generally best repaired by total encapsulation with a liquid repair.
Asphalt Roofing Damage and Repair
Common problems with asphalt commercial roofing are bumps and blisters. You'll be able to easily identify bumps as raised areas on the flat roof. They form due to moisture getting trapped underneath the surface of the asphalt and need to be addressed quickly. Blisters are a result of multiple bumps on the asphalt surface.
Another common problem you may face is splits or cracks. These are critical problems to repair as quickly as possible, as they will likely lead to water infiltrating the roof, compromising the entire roofing system.
In most situations, you can repair your asphalt roof, which lends to its longevity. Generally, repairs are done through the patch repair method. To do this, your roofing contractor will heat the affected area and cut it out to replace it with fresh asphalt.
However, you can benefit from a liquid repair that does not use a heated method. It will fully encapsulate the area that has cracks or splits, preventing leaks from occurring. Because it works so quickly, your business won't be disrupted, and it's more cost-effective than the patch repair method.
Liquid Roofing Damage and Repair
When your liquid roof needs repair, the process is straightforward, increasing the lifespan of your roof. It simply involves the re-application of the liquid system. In most cases, the affected area will need to be removed before the new coating can be placed. Just like with the initial application, there is no downtime or disruption to the building.
Metal Roofing Damage and Repair
Metal roofing systems are most likely to face corrosion in the spots where the sheets were cut to size for the roof. The edges are left exposed, and over time, this leads to corrosion up the sheets. When this problem is not treated promptly, it will lead to leaking and the potential need to replace parts of the roof.
The most common method of fixing this problem is using a high-pressure spray to clean the surface of the metal. Any loose paint and all corrosion must be removed with a hand grinder. The roofing contractor will then use butyl tape to tape all the joints and cover all the screws. They'll also use a sealant to fill gaps that stretch more than 2 mm in diameter. The corrosion on the cut edge will need to be treated with a sealant, and all metal sheets covered with a special coating.
As an alternative, a liquid repair can be used to encapsulate the entire affected area. Once your roofing contractor has removed the corrosion from the metal, they can apply the liquid system to seal off the metal roofing from the elements, preventing further corrosion. This will also cover the joints and fill the gaps that are greater than 2 mm in diameter. It will be less time-intensive and produce excellent results.
Preventing a Full Roof Replacement With Repairs
To save yourself a lot of money, you must have your roof repaired at the first signs of trouble. Commercial flat roofs can frequently be saved from needing a full replacement by using the best repair option. You'll find that in most cases, the best option for many reasons is using a liquid overlay.
A liquid overlay is the application of a liquid coating over the existing roofing system. The primary benefit of doing this is the encapsulation of your roof and the liquid's ability to move around complex details, like drains, in the roof.
Corrugated roofing with corrosion will also benefit greatly from liquid overlay. In this situation, the entire roof can be coated with a liquid overlay. Even older buildings featuring an asbestos roof can use this method. Both types of roofing will have extended lifespans once the process is completed.
A liquid overlay is an efficient, safe, and cost-effective method for roof repair and an excellent alternative to roof replacement in many cases. Before you opt for a new roof, ensure you have a full inspection completed by a trustworthy roofing contractor to know if a liquid overlay would work for you.
Get In Touch About Commercial Roof Repair
If you have any questions about a commercial roof repair or require a quotation please get in touch or call us on 0207 7818153. The expert commercial roof repairs team at Southern Liquid Systems will be happy to help you.