Commercial Roofing Contractors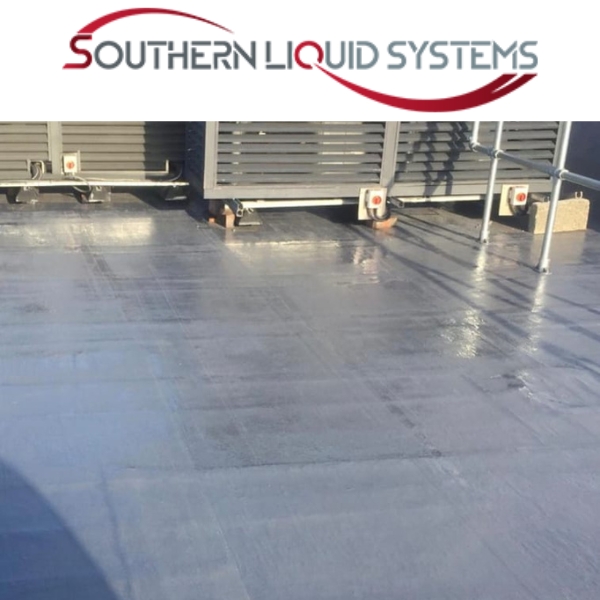 At Southern Liquid Systems, we are specialist commercial roofing contractors. We provide a full range of commercial roofing services. We specialise in applying liquid waterproof coatings. These can be applied to almost any roofing substrate. We provide commercial roofing services throughout London and across the whole of the UK.
If you have any questions about a commercial roofing project or require a quotation please get in touch or call us on 0207 7818153. Southern Liquid Systems are expert commercial roofing contractors who will be happy to help you.
Flat Roof Systems For Commercial Roofing
Flat roofing systems are often used for commercial roofing. These roofing types are relatively cost-effective and easy to maintain. Any repairs can be done quickly and efficiently with minimal disruption to the business. The installation process is safer and results in an aesthetically pleasing finish. Several different types of flat roofing systems exist, each offering its own benefits.
Felt Roofing
If you're looking for a versatile roofing option, felt is a great choice. It can be moulded to any style and size roof. Additionally, it comes in many colors and can have an optional UV layer added, which will reflect harmful UV rays that can damage the roof's surface. This type of roof generally has a 20-year lifespan and can accommodate heavy footfall.
Felt is laid on a roof from rolls, which are moulded to the roof's structure using blow torches. Generally, this system will have three layers. The first layer comprises a perforated underlayment followed by a 2 mm underlayment. The final layer is a 4 to 5 mm cap sheet, which is a felt layer.
A strong polyester weave strengthens each layer. It is inserted into the centre of the felt to increase the overall strength of the roof. Additionally, when the layers are added, the roofer will ensure the joints are all as far from one another as possible to ensure the strongest roof possible.
Asphalt Roofing
Another excellent choice for commercial roofing is asphalt. It can be easily moulded and is hardwearing. Maintaining an asphalt roof is straightforward, making it one of the easiest options to handle post-installation. However, you must ensure that the roofing contractor you hire is skilled in the application of asphalt roofing for commercial properties, as this material is highly specialised, and not everyone knows how to properly install it.
A specialist mixer is required for heating the asphalt blocks to the required temperature of 220℉ at which point it will be malleable and pourable. The roofers will then pour and spread the molten asphalt onto the roof's surface.
After spreading the asphalt, they will sand rub it and leave it to cool and harden. Generally, this type of roof is painted with paint that reflects UV rays. This paint will help extend the lifespan of the roof.
Liquid Roofing
The most outstanding option for commercial roofing is the application of liquid roofing. To use a liquid system to waterproof a commercial building, the product can be installed year-round so long as the temperature is greater than 0℃. Some of these systems even offer immediate waterproofing upon application, while others only take up to two hours.
You can use your roof almost immediately after the liquid roofing is applied. The application involves minimal disruption and does not alter the building below, as liquid systems are applied without using naked flames. These systems are ideal for the most intricate detailing because they can perfectly form around all roof fixtures and features.
A liquid roof can be applied as waterproofing to new flat roofing or as an overlay on your existing commercial roofing. It is an excellent, cost-effective choice for larger projects.
Maintenance is very easy with liquid roofing, as only the damaged part of the roof will need to be repaired. There will be no need for costly demolition of the entire roof or large sections as is needed with alternative roofing options.
Liquid roofing features great elasticity and tensile strength. Throughout the course of a year, flat roofing will typically undergo some movements. The liquid waterproofing has the ability to shift and accommodate these movements with no damage to the surface of the roofing if it was installed correctly.
You also won't have to worry about moisture buildup inside your building as liquid roofing is vapour permeable. It will allow the moisture that rises up to the roof space adequate ability to pass through the material, maintaining adequate ventilation.
Getting a liquid roof overlay can provide your commercial flat roof with an extension of its expected lifespan. This method has been proven to be highly cost-effective and will save you a lot of money over a complete roof replacement job. If the substrate is intact, the liquid coating can be directly applied to it.
The benefits of liquid overlays include avoiding the damage that a complete removal and re-roof can cause. These extensive projects can cause building movement and cracks in walls. The modern liquids used often have better fire ratings, increasing building safety. Liquid systems have high durability, lasting between 10 and 25 years.
Choose the Best Roofing Option for Your Commercial Roofing Project
While there are many great options for commercial flat roofing, liquid roofing stands out as the best. It is the most cost effective and safest option for the building overall. Additionally, it can increase the longevity of your flat roof. Repairs and maintenance are straightforward, making it easier to keep this type of roof looking new longer than alternative materials.
Need Help From Commercial Roofing Contractors?
If you have any questions about a commercial roofing project or require a quotation please get in touch or call us on 0207 7818153. Southern Liquid Systems are expert commercial roofing contractors who will be happy to help you.