Flat Roof Repair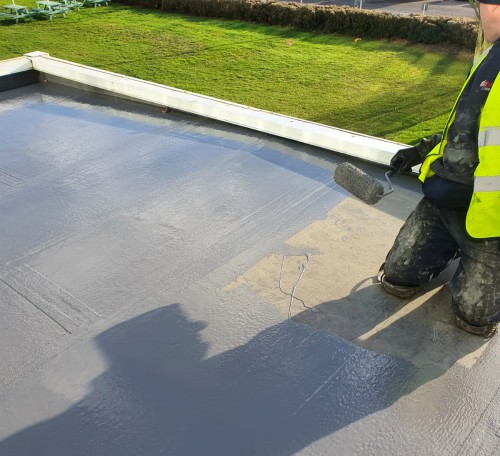 At Southern Liquid Systems, we provide a comprehensive flat roof repair service for both residential and commercial clients. We can quickly repair all types of flat roofing including EPDM rubber, felt, asphalt and GRP/Fibreglass. As our repair system is cold applied liquid the disruption your property will suffer during the repair process will be minimal. If you would like to get in touch with us about flat roof repairs please call us now on 0207 7818153.
The Potential Cost of Not Getting A Flat Roofing Problem Repaired
If you have an issue with your roof such as a leak, puncture holes, cracking or ponding it is extremely important to contact a professional roofing contractor to fix your issue as soon as possible. If this is not done the issues with your roof will only worsen and the potential damage you can suffer will only increase.
Roofing issues do not get better without repair. When you identify an issue with your flat roofing it is the precise moment in time where it will be at its cheapest cost to fix. As roofing issues deteriorate they become more expensive and increase the probability you will need a full flat roof replacement. So, if you have a flat roofing problem get in touch with a professional contractor today.
Commercial Flat Roof Repair
We provide a comprehensive range of commercial flat roofing repair services. This ranges from small repairs to cracks and splits in the flat roof, liquid overlays and complete roof replacements. Whatever type of commercial roofing repair you need we will endeavour to find the most cost effective and convenient solution for you. Our liquid waterproofing products can be applied on a number of systems including felt, mastic asphalt, rubber and GRP. Due to it being a liquid system which we are using all complex detail can be easily handled. This includes soil vent pipes and other plant situated on the flat roof.
Flat Roof Leak Repair
If you have a leaking roof, before we carry out the flat roof leak repair we often conduct a thermal imaging survey. Once completed we would have a thermal imaging report which will show the area of the roof where the leak has occurred. When the defective area is identified the defective area will be stripped back and repaired. The way in which this is done will be dependent upon the flat roofing system in place. With mastic asphalt roofs the hot poultice method would be used. With liquid or GRP sandpaper would be used to remove the waterproofing membrane. The substrate would be cleaned and dried. Then a base coat of liquid waterproofing paint will be applied. Reinforced fleece will be laid over this base coat and allowed to soak into the liquid. Finally the reinforced fleece will be covered with a top coat of liquid waterproofing.
Liquid Roof Repair
A liquid roof repair can be used on a number of different substrates. It is often significantly cheaper to conduct a liquid repair on systems such as felt. The reason for this is the elimination of the need to remove a large flat roof area to fix the defect. After a thermal imaging survey to pinpoint the leaks location, the problem area is marked out with tape. Next, the defective felt is cleaned and dried. The area should be primed with any cracks in the surface filled with PU sealant. A base coat of liquid waterproofing paint is applied. Then reinforced fleece is laid over the base coat. Finally the base coat of liquid waterproofing is applied to complete the repair of the leaking flat roof.
Temporary Roof Repair (DIY Flat Roof Repair)
If you want to try and fix your own flat roof. The explanation below will give you a step by step guide on how to use a waterproofing sealant to extend the life span on your roof for potentially 10-15 years. The following step by step guide will talk you through how to apply a waterproof paint on sealant which will work on almost any roofing system including; felt, asphalt, GRP and rubber. Indications you may have a split or crack in your roof include; a slight smell of damp in a room, damp patches on the ceiling or along the top of your walls.
You will need:
A waterproofing paint (we recommend Mariseal 250), a primer, a heat-gun or towel, a broom or brush, a paintbrush to apply the waterproofing paint.
DIY Repair Guide
1) Begin inside by measuring where the water mark or damp patch starts on your ceiling and make a mental note of this rough measurement.
2) Once you go onto the roof use the rough measurement to then try and identify where your leak originates from. This will help you understand where you need to start repairing. In most cases you should see a visible indication of where the roof needs repairing, such as cracks or sunken areas. The sunken areas may also have water pooling.
3) Before you start be sure to check the entire roof area in case there are multiple areas which could benefit from being strengthened to prevent any splitting.
4) The next step is to remove any pooled water. As much as possible should be removed using towels or a heat-gun to dry the unwanted moisture. You need a clean surface before you can begin any work so use a broom to brush any excess water, dirt or moss from the surface of the roof.
5) The cleaned area should be primed. In most cases a primer such as Mariseal Aqua Primer should be used. However, for rubber roofs a TPO primer is preferable.
6) You are now ready to use the waterproofing paint. The sealant works by bonding with the surface and driving out any moisture. Spread the waterproofing paint around the entire defective area smoothly and evenly.
7) As you apply your sealant remember you are aiming to achieve a coat of around 2mm in thickness. You need to ensure you take care around any joints or splits, coating these areas thickly. If your repair is around a detail such as as a flashing, skylight or soil vent pipe. Mariseal Detail may be a better solution for you than Mariseal 250. The reason for this is Maris Detail is specifically designed to waterproof around details. It contains extra fibres within the paint to provide extra reinforcement.
8) Should you have any splits on your roof you will want to get some self-adhesive plasterer's scrim to use as a reinforcement of these areas. Start by measuring the length of the spilt then cut the scrim accordingly and place to one side.
9) Then use your brush to apply the paint sealant to this area, when happy with the level of thickness place the plasterer's scrim on top. Now you are ready to work the sealant over the top of scrim to really reinforce the repair. Plasterer's scrim is around 2 inches in width and gives the cracks extra coverage and adds another level of protection to your repair.
10) Once the scrim is covered in waterproofing paint, the roofing repair is completed. Many waterproofing paints will be waterproof within 2 hours of application if a catalyser is mixed in with the paint. Otherwise it will take 12 to 24 hours to cure.
DIY Flat Roof Repair Tips
• Select the right flat roofing material for your repair.
• Don't overuse a material it will result in a bumpy, messy finish and need further repair at a later date.
• If using waterproofing paint make sure you use a thick layer and don't skimp. You don't want to have to keep adding touch ups at a later date.
• If in doubt contact a professional roofer to carry out the repair.
FAQS about Flat Roof Repair
How Much Does It Cost To Repair Flat Roofing?
The cost to repair a flat roof will depend upon a number of factors. Such as the ease of access to the flat roof, the severity of the repair work needed and the roofing system which needs to be repaired.
Can Flat Roofs Be Repaired?
Yes, in most cases flat roofs can be repaired. The early you identify an issue with a flat roof the greater the probability it can be repaired and the lower the cost will be to carry out the repair.
How Do You Repair Flat Roofing?
In general, to repair a flat roof the following process must be followed. First, the source of the leak must be identified. Second, the cause of the leak must be contained. And third, the roof must be left waterproof. For example, on a leaking EPDM rubber roof. The cause of the leak could be identified as a split in the surface of the roof. The EPDM rubber roof will be dried and swept to remove any debris. Reinforced fleece will be laid over the affected area. Then a liquid patch repair will be applied over the reinforced fleece to waterproof the roof and complete the repair.
How Long Does a Flat Roof Last?
The length of time a flat roofing system can last depends on the flat roof material and the application in which it is used. Flat roofs can have guarantees for 10, 25 and even 40 years. All roofing systems including EPDM Rubber, Liquid, GRP/Fibreglass, Asphalt and Felt should outlast their guarantee if installed and maintained correctly.
Do You Use A Flame When You Carry Out Flat Roof Repairs?
No we do not use a flame when we carry out flat roof repairs. For commercial flat roofing repairs this is especially beneficial as no disruption occurs to the building below when the flat roof is being worked on. All of our repairs are carried out with cold applied liquid roofing products.
Need Some Help Repairing A Flat Roof
If you would like a quotation or to ask any questions about a flat roofing repair please get in touch or call us on 0207 7818153. One of our expert surveyors will be happy to help you.
Liquid Roof Repairs, Penguin Random House, Colchester