Flat Roof Repair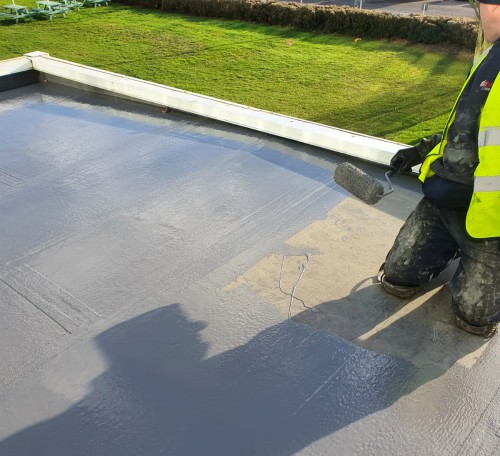 At Southern Liquid Systems, we provide a comprehensive flat roof repair service. We can quickly repair all types of flat roofs with cold applied liquid roofing in a manner which causes you the minimum disruption due to the process being completely flame free. If you would like to get in touch with us about a flat roof repair please call us now on 0207 7818153.
The Potential Cost of Not Getting Flat Roof Repair Work Once a Problem Is Identified
If you have an issue with your flat roof such as a leak, cracking or ponding it is extremely important to contact a professional roofing contractor to fix your issue as soon as possible. If this is not done the issues with your roof will only worsen and the potential damage you can suffer will only increase.
Roofing issues do not get better without repair. It is important to remember. When you identify an issue with your flat roof it is the precise moment in time where it will be at its cheapest it ever cost to fix. As roofing issues deteriorate they become more expensive. So, if you have a flat roof problem get in touch with a flat roofing contractor today.
Commercial Flat Roof Repair
We provide a comprehensive range of commercial flat roof repair services. This ranges from small repairs to cracks and splits in the flat roof, liquid overlays and complete roof replacements. Whatever type of commercial flat roof repair you need we will endeavour to find the most cost effective and least disruptive solution. Our liquid waterproofing products can be applied on a number of systems including felt, mastic asphalt, rubber and GRP. Due to it being a liquid system which we are using all complex detail can be easily handled. This includes soil vent pipes and other plant situated on the flat roof.
Flat Roof Leak Repair
If you have a leaking flat roof, before we carry out the flat roof leak repair we would conduct a thermal imaging survey. Once completed we would have a thermal imaging report which will show the area of the roof where the leak has occurred. Once we have identified this area we will strip back the affected area. The way in which this is done will be dependent upon the flat roofing system in place. With a mastic asphalt roof the hot poultice method would be used. With liquid or GRP sandpaper would be used.
Once this is done a base coat of liquid waterproofing is applied.
Next, we would cover the area where the roof id being penetrated with a reinforced fleece or matting. And finally, we would cover the area with a liquid waterproofing product.
Liquid Roof Repair
In the case of a liquid roof repair being required after using a thermal imaging survey to pinpoint the leaks location, we would mark out the area with tape. Next, we would use sandpaper to remove the liquid coating in the affected area. Once this area has been stripped back we remove the tape and apply a base coat of liquid waterproofing. Any cracks or splits in the surface which is allowing the water to seep through is covered with a reinforced fleece or matting. Once this is done the area is covered with the liquid waterproofing product to complete the repair.
FAQS about Flat Roof Repair
How Much Does It Cost To Repair A Flat Roof?
The cost to repair a flat roof will depend upon a number of factors. Such as the ease of access to the flat roof, the severity of the repair work needed and the roofing system which needs to be repaired.
Can Flat Roofs Be Repaired?
Yes, in most cases flat roofs can be repaired. The early you identify an issue with a flat roof the greater the probability it can be repaired and the lower the cost will be to carry out the repair.
How Do You Repair a Flat Roof?
In general, to repair a flat roof the following process must be followed. First the source of the leak must be identified. Second the cause of the leak must be contained. And third the roof must be left waterproof.
How Long Does a Flat Roof Last?
The length of time a flat roof lasts depends on the system and the situation in which it is used. Flat roofs can have guarantees for 10, 25 and even 40 years.
Do You Use A Flame When You Carry Out Flat Roof Repairs?
No we do not use a flame when we carry out flat roof repairs. For commercial flat roof repairs this is especially beneficial as no disruption occurs to the building below when the flat roof is being worked on. All of our repairs are carried out with cold applied liquid roofing products.
Liquid Roof Repairs, Penguin Random House, Colchester